I never would have thought it possible, but denim on denim is a hot trend! It was shown on the runway a couple seasons ago, but it took some time to catch on because there is a fine line between chic and looking, um, not. I was skeptical as well, but when I saw several photos of my style icon Miranda Kerr (a model married to Orlando Bloom) wearing it, I was hooked.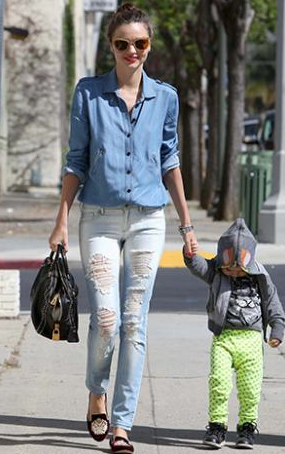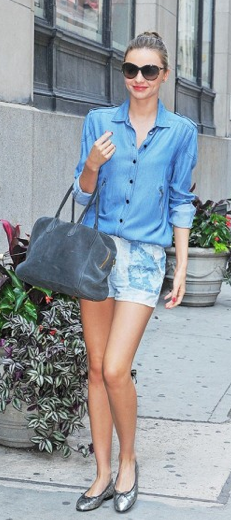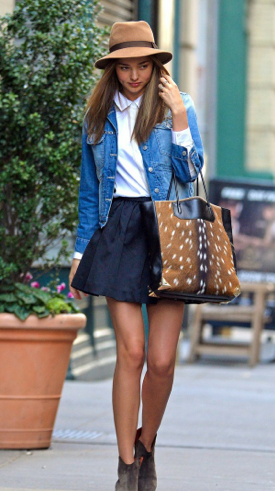 I like the look for summer because there's not quite soooo much denim when wearing the trend with shorts or a sleeveless shirt. I thought I'd show you how to wear denim on denim with a cute sleeveless top and a few different possibilities for the bottom.
Two by Vince Camuto sleeveless shirt. I like this top because it looks great by itself, but it would also look good with a T-shirt underneath. Free shipping and free returns. On sale: Was $99.00, now $59.40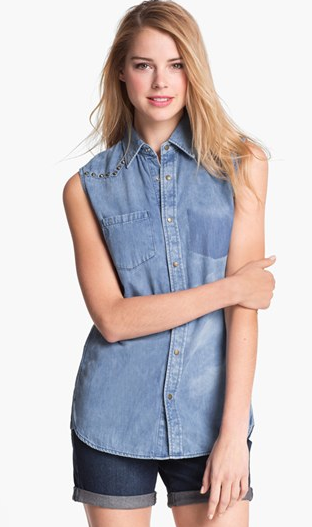 Two by Vince Camuto jeans. This is a fun color and would look great with the sleeveless shirt. It's also a good transition piece for fall when you could wear it with a light sweater or a jean jacket. Free shipping and free returns. On sale: Were $99.00, now $49.49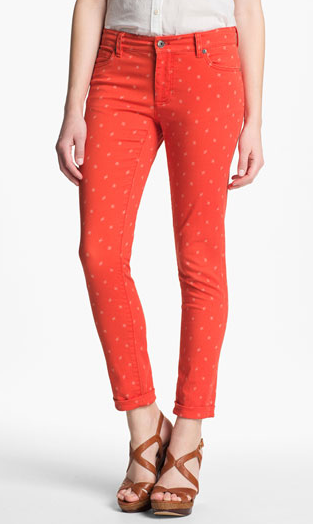 NYDJ cropped jeans. These cropped jeans are a good length. Any shorter and they will cut off your legs visually and make them look stumpy. NYDJ are great because they are made for a woman's figure and are not cut too low, so they hide a tummy really well. Free shipping and free returns. On sale: Were $104.00, now $77.90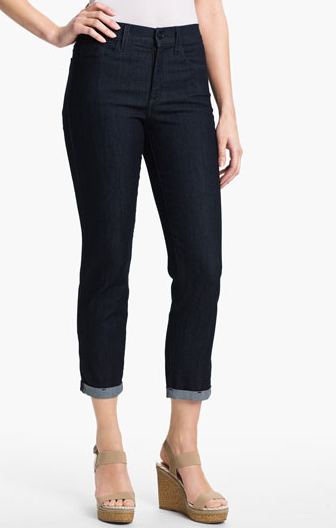 Kut From The Kloth denim shorts. These shorts are casual, but the darker wash means you could dress them up with wedges and a white jacket for a dinner out. Free shipping and free returns. $54.50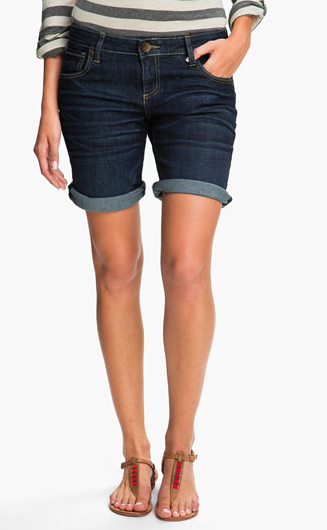 Rules for pairing denim with denim
Wear different washes together. If you're bottom-heavy, wear dark on the bottom and stonewashed, bleached or chambray denim on the top. If you're top-heavy and want to camouflage, wear stonewashed or a light color on the bottom and a darker color on the top (that's a general rule, not just for denim!).
Pair only two items at once. Don't wear jeans with a denim shirt and a denim vest!
Balance the proportions. If the jeans are tight, wear a shirt that is a bit looser and vice versa (that's another general rule).
Don't pair denim on denim with cowboy boots.
Don't tie the shirt or you'll look like an extra from Footloose.
Wear colored or patterned jeans with a denim shirt.
Cute shoes, such as ballet flats or wedges, up the style quotient.
Wear a denim shirt open with a T-shirt under it to break up the look.
Wear a denim shirt with a full denim skirt (a la Miranda Kerr above) or shorts for a different look (the rules above still apply!).
xoxo
Illysia