I am pale and getting a tan requires a HUGE effort on my part. I'll never forget the one summer in my life when I was tan. My husband and I had just moved for his job, it was summer, and we lived in a complex with a pool. My job while I was looking for a job was to get tan. When friends and I reminisce about things that happened that summer, it always starts off with, "Remember the one summer when I was/you were tan…?"
I've come to terms with my paleness, but every once in a while I want a faux glow. For those of you out there who need a tan fast (say you're going to a wedding and your ex will be there), here's what I've learned about how to look tan for a special occasion.
The new gradual self-tanners are far superior to the self-tanners of the olden days. The color is better but more subtle. You'll need about a week or so to get enough color to make a difference, so factor that time in.
L'Oreal Sublime Glow Daily Moisturizer + Natural Skin Tone Enhancer. $11.49
If you don't have time for a gradual self-tanner, it's time to call in the big guns. I've used a certain self-tanner for years and years and years with much success. It is expensive for a tanner but it lasts forever, and it works really, really well. It sprays for light but even coverage, and I know a lot of makeup artists who use it because a little bit goes a long way. The color is perfect, it's very natural looking. You will love it! Really!
Guerlain Terracotta Bronzing Powder Mist. $61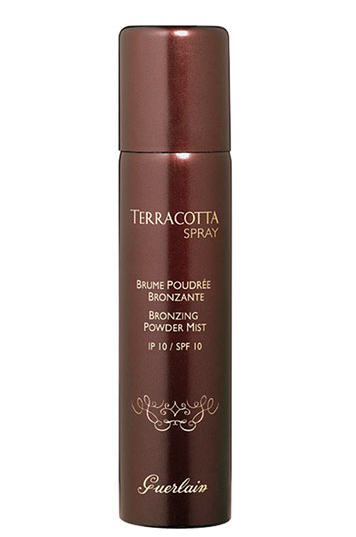 Some tips:
Make sure you exfoliate before putting on a self-tanner. Your tan will be blotchy and uneven if your skin is flaky before you put the tanner on.
When putting self-tanner on a spot that bends (fingers, elbows, knees), bend the area to stretch the skin and put the tanner on, otherwise you will have too much product in some places and not enough in others. And, apply sparingly in those areas.
Make sure you apply self-tanner when you have enough time to let it dry. I'll shower, put the self tanner on, and then dry my hair and apply my makeup before I get dressed.
And don't forget to put some on your ears and jawline!
xoxo
Illysia