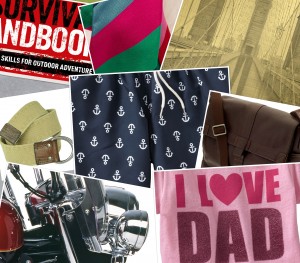 Father's Day is the perfect opportunity to give all your favorite dads a fab gift (or two). Here is a selection of fun and hip Father's Day gift ideas for all the great dads you know and love.
This Old Navy T-shirt will show dad just how much his little princess loves him. It's available in sizes from 12 months to 5T. As an added bonus, it's sparkly, and it's less than $10! There is a boy's version too. Find it here: I Love Dad T-shirt.
Ties are ubiquitous gifts for Father's Day. I like giving them because I can update my husband's wardrobe and get credit for giving him a gift at the same time. The colors as well as the diagonal stripes on the silk tie below make it a very modern looking, yet conservative enough to wear with a suit. You can also pair it with a shirt as a gift set. Find it at the Boden USA website for $68.00 here: Boden silk tie.
Fossil's Trail Messenger bag has a cool, academic vibe. It's leather with a cotton canvas lining, an adjustable strap and ton of pockets, including a padded laptop compartment. It's available at Piperlime.com, which offers free shipping and returns, for $278.00. Find it here: Fossil Trail Messenger Bag.
Why not help your favorite dad protect his iPhone 4 with this cool vintage-looking hard case by Jack Spade (the brother company of Kate Spade), available for $40.00 at Piperlime.com. Find it here: iPhone case.
Books are always a great gift option! "The Survival Handbook" is a fun read. Want to know what to do if you meet a bear in the woods, how to light a fire in the rain, or what to do in shark-infested waters? Get the answers to these questions and more with the ultimate guide to survival techniques. Buy it at Amazon for $12.21 (why are their prices always so odd? The obsessive-compulsive in me just wants them to round up to the nearest nickel!): The Survival Handbook.
Engineers have always had a huge influence on the way we live and how our world looks. "Engineers" is a fascinating book that tells their story, from the men who built the Great Pyramid in Egypt to the pioneers of space travel. Find it on Amazon for $38.35 here: Engineers.
"Motorcycle" is the ultimate guide for bike lovers and riders. It traces the history of the motorcycle, cataloging bikes from the first prototypes to the superbikes of today. For every boy who loves his toys, "Motorcycle" is a perfect gift! Buy it at Amazon for $27.83 here: Motorcycle.
**Note: prices are current as of May 31, 2012. Amazon does changes prices slightly on occasion. 
Give the metrosexual dad a collection of limited-edition products in the Peter Thomas Roth Father's Day Kit. The sleek, grey flannel bag comes with an Anti-Aging Cleansing Gel, Clinical Peel & Reveal, Uber Dry Sunscreen SPF 30 and Max Anti-Shine Mattifying Gel. It's $150.00 ($195 value) and available here: Father's Day Kit.
Help a dad sport an impeccable shave with this quartet of full-sized shaving products from Anthony Logistics for Men, zipped up in a sporty mesh dopp bag. Equipped with a Glycolic Facial Cleanser, Pre-Shave Oil, Shave Cream and After Shave Balm, this kit will eliminate ingrown hairs, irritation and razor burn, leaving his skin healthy and protected. Ben Affleck, Kevin Federline and Mario Lopez are fans of this line. It's $55 (a $90 value) and available at Nordstrom, Sephora or here: Shave Kit.
After a long online search for color shoelaces, my husband discovered maxtonmen.com. Each month, they select the best men's products and present a thoughtfully edited assortment. And, they have free shipping and free returns. The following gifts are from their website. 
The cocktail shaker below, priced at $14.00, would be fun to add to a James Bond bar gift set. Although a Vodka Martini has been James Bond's drink of choice in the films, the Vesper Martini is what Bond claimed to have invented in the Ian Fleming book "Casino Royale." The recipe is three parts gin, one part vodka, half a part Lillet, shake it with ice and add a lemon peel. Add a martini glass, and you've got a great gift set. The shaker is available here: Cocktail shaker.
Continuing on the spy theme, these featherweight collar stays are the coolest thing ever. You can use them to fix gadgets, eliminate loose threads and open bottles. They are 100% titanium (non-magnetic and TSA friendly) and distributed in SERE (Survival Evasion Resistance Escape) Kits around the world (SERE Specialists run personnel recovery missions for the military), which up their cool factor even more. They are $30 for a pair. Check them out here: Collar stays.
Dad can have some fun with his socks even if he is the buttoned-up type. These socks by Richer Poorer are $12 for a pair and made from 68% combed cotton, 16% polyester, 13% nylon and 3% spandex. Find them at the bottom of the page here: Striped socks.
The Fred Perry Vintage Twill Tool Bag in navy is an updated version of the classic workman's tool bag. It has one large main compartment with double zips and leather tie-and-buckle fastenings as well as a long side zip pocket, ideal for an umbrella. This bag is great for the gym or a weekend away. It is available for $98.00 here: Fred Perry tool bag.
I will bet you that at least 75% of men out there need a new wallet, but it's something they never think to buy themselves until it literally falls apart. The J Fold Altrus Superslim Bifold Wallet is a great gift. The raised circles make it look very unique and contemporary. It is $48.00 and has 4 card slots, 1 cash pocket and 2 smaller pockets. Add a Starbucks card as a bonus for dad. You can find it here: Altrus wallet.
I hope these Father's Day gift ideas ease the stress of getting the perfect gift for that perfect dad. Now, you can use all that extra time to pat yourself on the back for a job well done.