I am pale and I burn easily, so I have to use sunscreen all year 'round. Even a cloudy summer day can make me look like a lobster! I've tried sooooo many sunscreens that were not good enough, too greasy, too white, etc, etc. I was in Sephora a few months ago browsing around and came upon a newly reformulated moisturizer with SPF from Josie Maran. I really like her product line because it's natural, but still very effective. I've posted about her Argan Color Stick cream blush as well. I didn't have a sunscreen I loved, so I decided to try it.
The new formulation is absolutely my favorite sunscreen for the face! It's a matte formula so it doesn't make your face look greasy and it's got a blend of antioxidants that allow for less zinc oxide and titanium dioxide, so no more white face. In addition, it's got argan oil which is a great anti-aging moisturizer.
Josie Maran Argan Daily Moisturizer SPF 47. $35 for 2 oz.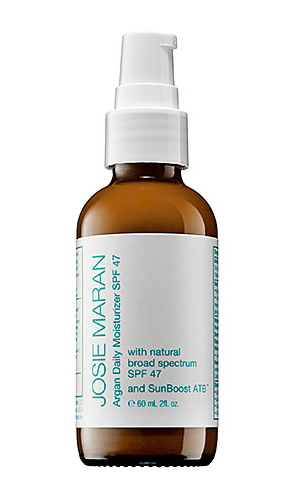 xoxo
Illysia