I always feel fortunate, but summertime is when I really appreciate my life. I have spent a month in Europe every summer since I was born. When I was a child, my mother would take me somewhere fabulous (Cannes, Ibiza, Capri) and then we would go visit our relatives in her hometown of Nurnberg, Germany. My husband, whose mother is also German, had the same upbringing I did, so after we married, we traveled to Europe every summer too. Three years ago we bought an apartment in Paris (I am still waiting to wake up!!), and now we travel there every summer as well.
The "challenging" part of the trip is figuring out how to pack for a month away when the weather can be 55 degrees or 85 degrees. I am a really good packer, so I know how to pack for a trip to Europe considering I'm away for so long. I also bring gifts for everyone, so I have room in my suitcase on the way back for the fab items I buy when I'm there (last year I got a pair of denim harem pants and a pair of camo loafers, each for $7!!) Below is a photo of everything I'm bringing for my trip (not including what I wore on the plane).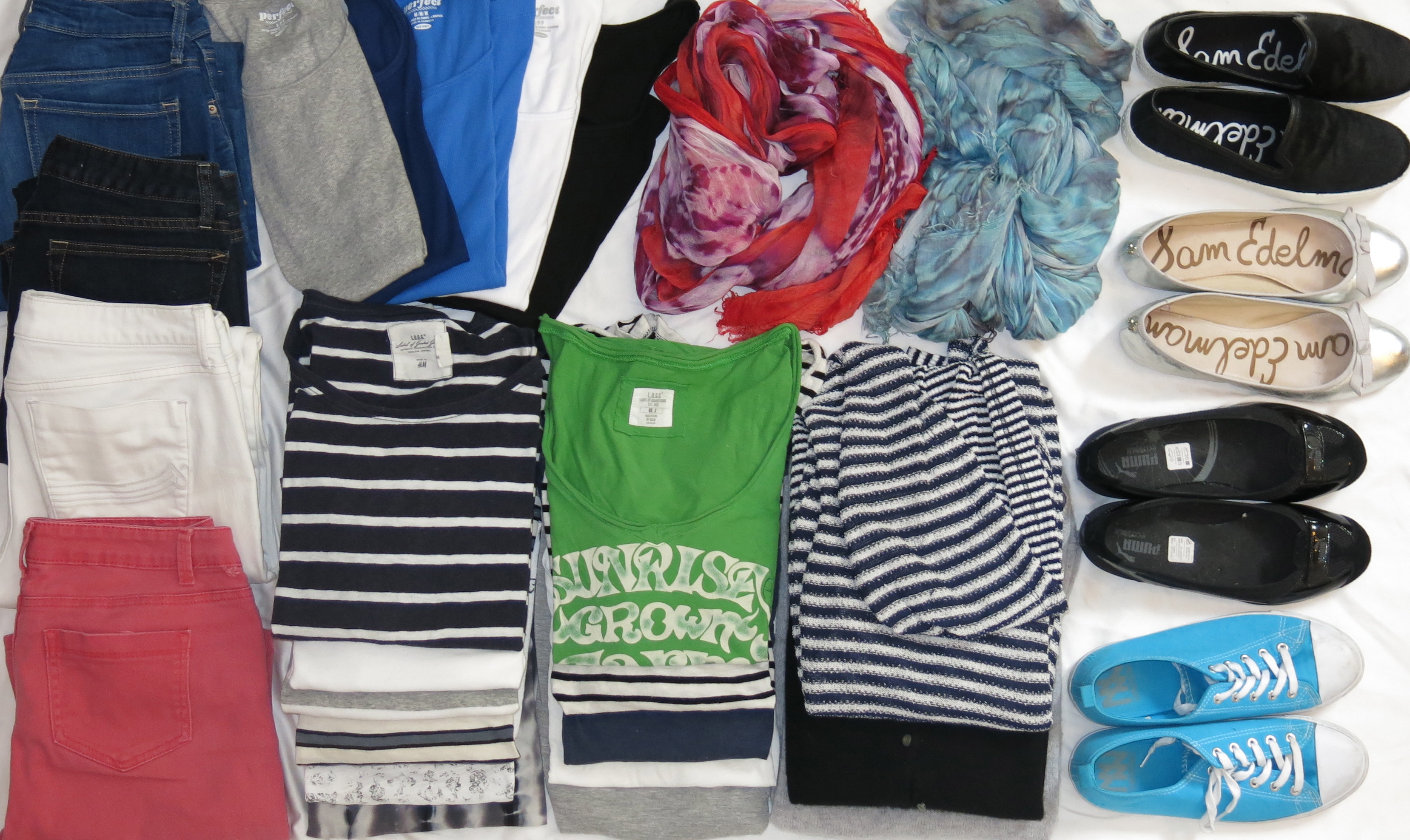 I am bringing:
4 pair of jeans (1 colored, 1 dark skinny, 1 boyfriend and one white)
6 long-sleeve tops (1 tie-dye, one white, 1 pattern, 3 stripes)
5 short-sleeve tops (1 graphic, 1 stripe, 1 grey, 1 navy, 1 white)
5 tank tops (1grey, 2 blue, 1 white, 1 black)
3 sweaters (1 grey cashmere v-neck, 1 black cashmere cardigan, 1 striped cotton)
3 scarves
4 pair shoes
plus what I wear on the plane, 1 rain jacket and 1 mini umbrella
I dress very casual for this trip. If I go out for a nice dinner, I'll wear one of my nicer tees, my dark skinny jeans, a scarf, jewelry and my silver ballet flats. It looks like I am not bringing a lot, but I have over 50 outfits here, not counting the different layering I can do with the tanks or the sweaters, depending on the weather. Now I have to go put everything IN my suitcase. Bon voyage!
xoxo
Illysia