I went to Paris the week before last and had such a fabulous time. I am very, very, very fortunate to own an apartment in Paris, so I get to go a few times a year. This time, my cousin from Germany met me for a few days, and I even got to see a good friend who now lives in Italy. She was going as I was coming, and we spent a few hours catching up over breakfast. (My cousin and I saw two mice running around just outside that restaurant a few days later, so I won't be recommending it here!) Luckily for us, the weather was beautiful, and we were able to do tons of walking around and dining outside. I wanted to post some pictures of Paris for both armchair travelers and people who may be going to Paris soon. Enjoix!
The Picasso Museum reopened late last year after being under renovation for three years, so I definitely wanted to check it out. Even if you don't like Picasso (a few too many boobs and bulls and two-faced people for my personal taste, but I'm no art expert), it's worth it to see the building that the museum is housed in. It was built in 1659 by a man who made his fortune taxing salt, hence the name Hôtel Salé (salted building). It was stunning!! And you can buy your tickets online to avoid the ticket buyers line.
My husband discovered Le Hangar at 12 Impasse Barthaud in the the 3rd arrondisement on his last trip to Paris. It's a well-hidden gem (next to the Doll Museum) with very local flavor. I had tuna with artichokes and a lentil salad with bacon. Yum! There is a small, quiet park just next door that's great for sitting and enjoying nature in the midst of a big city.
Place du Marché Sainte-Catherine in the 4th arrondisement is a fun place to eat and, more importantly in Paris, people watch. Any of the five or six restaurants there are good. Nearby is the Place des Vosges, built in 1605 by Henri IV for royal festivities to take place and where the royal court lived. It is a completely symmetrical square, and when the weather is nice it's a great place to picnic. The Victor Hugo Muséum, housed in the house that he lived in, is also here.
I've mentioned this street, Rue Dupetit-Thouars, in another post, but it's one of my favorite streets to dine (and only a 5 minute walk from my apt!), so I wanted to mention it again. In the photo below, you can see that there is one restaurant after another to choose from.
My cousin and I went to Les Vitelloni on Rue Dupetit-Thouars for dinner one night. We had a dessert that was so good, we ate it before I could snap a pic. It was a pound cake with homemade whipped cream and rum poured over. A simple dessert but so yummy. I will definitely try this at home (probably with a store-bought pound cake!).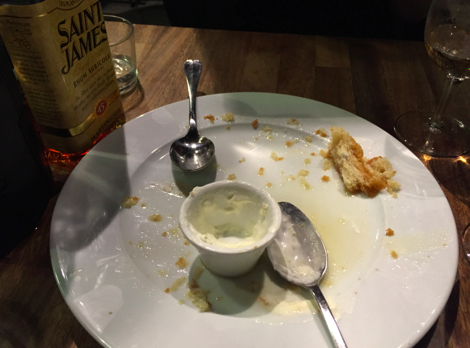 Hope you enjoyed my pictures of Paris. Stay tuned for more pix and places to go!
xoxo
Illysia