Layering necklaces is a bit of an art, similar to arranging knick-knacks in your home. You need to take a Goldilocks approach to it. It can't be too much or too little; it has to be just right. Want to know how to do it? Then read on for my tips about how to layer necklaces using really cute pieces from Stella & Dot.
The top you wear should showcase the necklaces you are layering. Good options include crewneck T-shirts, scoopneck T-shirts, V-neck T-shirts, and blouses. Polo shirts are too casual and T-shirts with sayings or pictures on them will be too busy. For fall and winter, wool turtlenecks, crewneck sweaters and V-neck sweaters are great for layering necklaces. The necklaces should be a little heavier in the winter. Layering delicate necklaces over a wool turtleneck won't look right.
Three necklaces is the perfect amount to layer. Two is a bit skimpy and four can be too busy.
Keep the general style the same. I love a good juxtaposition when it comes to clothing, but it won't look right to layer conservative pearls my mom gave me with a gold charm as in the photo below.
Leave a bit of space in between the necklaces to showcase them to their best advantage. If they are all on top of each other, it looks like you grabbed the first thing out of your jewelry box. There's a fine line between looking like you tried too hard and looking like you didn't try at all. It's important to find the balance.
The heavier pieces should hang lower than the lighter ones. Think of it like a pyramid. It would look very strange if the wider part were at the top, right? Aesthetically, you want to do the same with layering necklaces. My turquoise choker is too heavy for the delicate necklace below.
If you want to add color, wear one necklace with a color, not multiple strands, or it will be too distracting.
It's okay to mix silver and gold when layering. In fact, it gives your look more dimension.
Don't forget that you can double or even triple a long necklace and pull it gently until it hits the length you want on both the top and the bottom. Then you just need to find one necklace to fit with it.
Charm necklaces are fun to wear with other necklaces. You can even layer multiple charm necklaces. I would layer two together with a smaller necklace on top. The chains should be the same length as in the photo below.
You can layer in many different combinations. Three short necklaces, three long necklaces, one short necklace with two long ones, etc. It's also okay to layer two short necklaces with a long one if the long one has enough weight to it or you'll have the upside pyramid effect.
These are two of the Stella & Dot necklaces I used in the photos.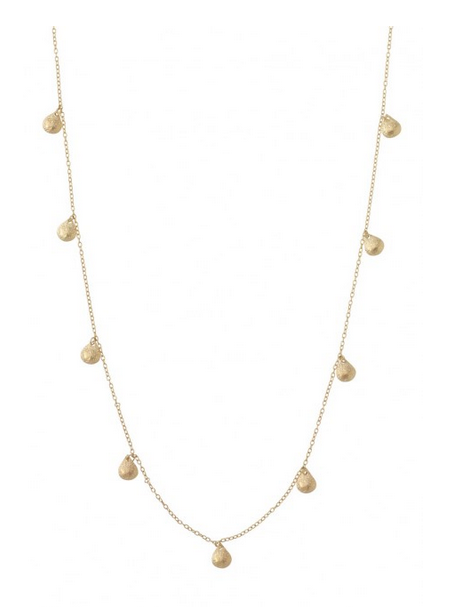 Demi Layering Necklace, $69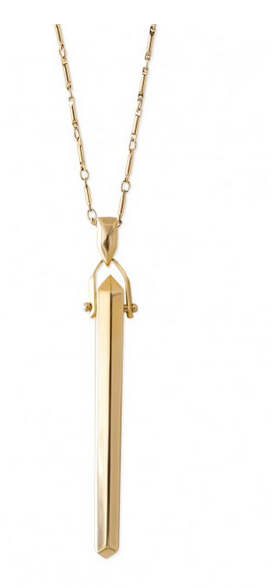 Rebel Pendant, $79
To get more info or buy any of these pieces, contact Kassie Stewart, a Stella & Dot stylist, here or on her Facebook page here.
Hope this post on how to layer necklaces was helpful. Let me know what you think!
xoxo
Illysia