Let's face it – winter coats are a necessity but they can be so unflattering and add bulk to our figures. Who wants that? Depending on your shape though, how to find a coat to flatter your figure is as easy as A-B-C – Accentuate, Balance and Conceal. Locate your figure type below to find the perfect coat for you.
If you are pear-shaped (the widest part of your body is your hips), you can bring the focus to the top half of your body. The black coat below is slimming, and the rabbit fur collar is not only warm, but will also draw attention to your face.
Sachi Fur Trim Coat. Available in regular and petite. Free shipping and free returns. $228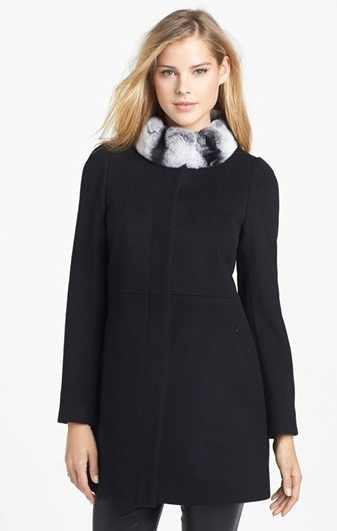 Apple-shaped women have slim legs and carry more weight in their middle. The coat below has vertical ribbons of tweed that will slim the middle and a horizontal tweed ribbon to create a waist. And it's really chic!
Laundry by Shelli Segal Boucle Jacket. Available in regular and petite. Free shipping and free returns. $180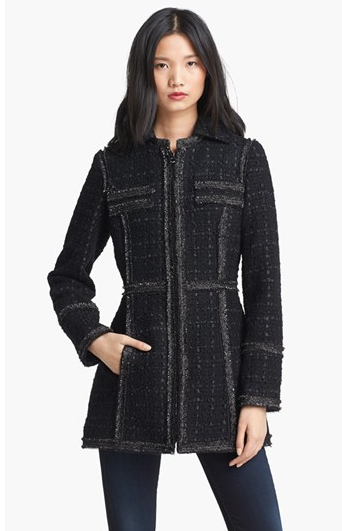 If you are top-heavy, the houndstooth pattern on the coat below will draw attention to your lower half. In addition, the slim shawl collar and the hook-and-eye closures are flattering on large-busted women.
T Tahari Coat. Free shipping and free returns. $248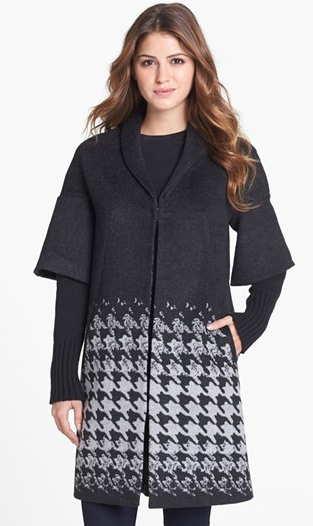 If you have a boyish figure (that would be me!), a coat that is shaped will create curves where there are none. The wide shawl collar and supple fabric soften an angular figure, and the belt creates a feminine waist.
Calvin Klein Boiled Wool Wrap. Free shipping. $310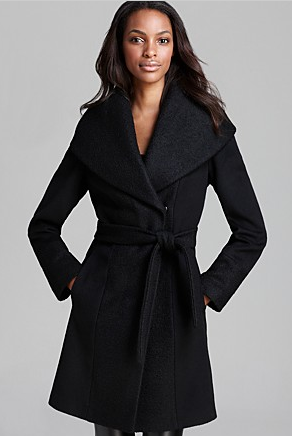 Broad shoulders can be exaggerated with the bulk of a coat. The wide stand-up collar of the coat below minimizes broad shoulders, and the faux leather waist draws attention to your mid-section.
Elie Tahari Faux Leather Waist Coat. Free shipping and free returns. $250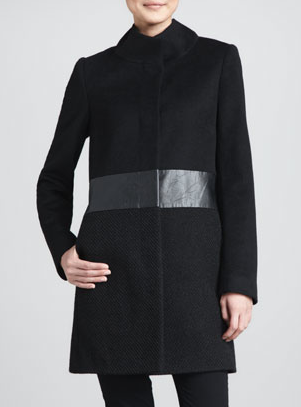 Petite women will want to stay simple with their coats. A large-scale pattern or really bright colors will overwhelm so that people notice the coat, but not you. That doesn't mean you can't be chic and wear interesting details though. The DKNY coat below is very sophisticated, and the ruffle down the front creates a beautiful focal point.
DKNY Ruffled Coat. Online only. Free shipping and free returns. Was $228. On sale for $149.90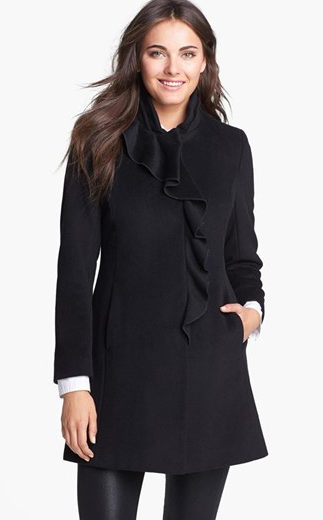 Plus-size women will look gorgeous in the coat below. The soft, stretch material moves with you and won't create additional bulk. The asymmetrical zipper causes the eye to look vertically for a slimming effect. I love this coat!
LAUREN Ralph Lauren Asymmetric Zip Coat. Free shipping. $279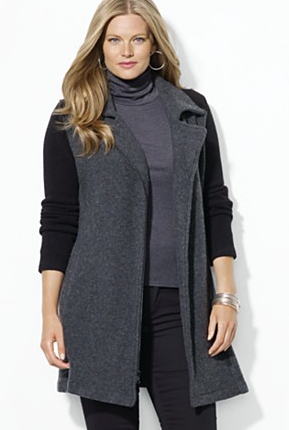 If you have any questions about how to find a coat to flatter your figure, feel free to ask me in the comment section.
If you enjoyed this post, please consider sharing it on your social media. Shouldn't everyone be madly chic?
Thanks for reading!
xoxo
Illysia