I am moving next week and have been in a hotel for a few weeks while my floors are being refinished. I was invited to a party by a new neighbor and was so excited to meet people from my new hood. As I was getting ready to go out, I noticed that my cashmere sweater was pilling terribly. Of course my handy electric lint shaver is in storage. Here I am, a fashion stylist, and I'm walking around with a pilled sweater. Horror of horrors! OK, I'm totally exaggerating, and I know there are much worse things going on in the world than a pilling sweater. But, it annoyed me just the same.
I emptied out my cosmetics bag to see if I could find something that would help. I have read that you can de-pill a sweater with a disposable razor, but that freaks me out. I could just see myself slashing my sweater to bits! When I didn't come up with anything from my stash, I searched through my husband's things and found a small plastic fine-toothed comb. Bingo!
I held the side of the comb next to my sweater and combed the pills out, being very careful not to get the teeth stuck in my sweater. And it worked really well! It's a great quick fix for pilling sweaters. We'll see if my husband reads my post and figures out why he has cashmere fuzz balls in his hair this morning. LOL.
If you don't want to spend the rest of your life combing your sweaters, an electric lint shaver is a great alternative. This is a good one.
Sunbeam Lint Shaver. Free shipping with orders above $35. $12.99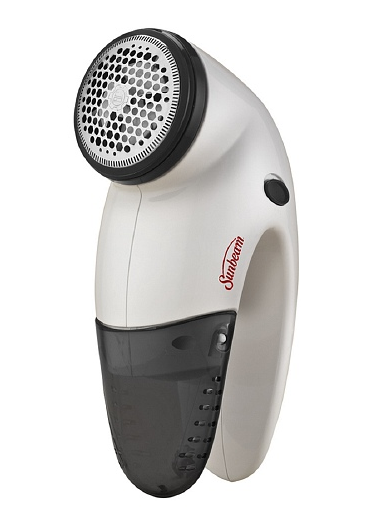 xoxo
Illysia