I am in Paris, one of my favorite cities in the world. I am sooooo fortunate that I own a pied-a-terrre here. Two  and a half years ago, my husband and I bought, gutted and renovated a 400-square-foot apartment in the Marais. It was a really fun process because we had a fabulous interior designer who acted as our contractor. I get to Paris a few times a year, and it's so nice to have my own space. Before this trip, several of my friends asked me to write a post on how to pack for paris so here it is:-)
Below is a photo of all the clothes I brought for the week.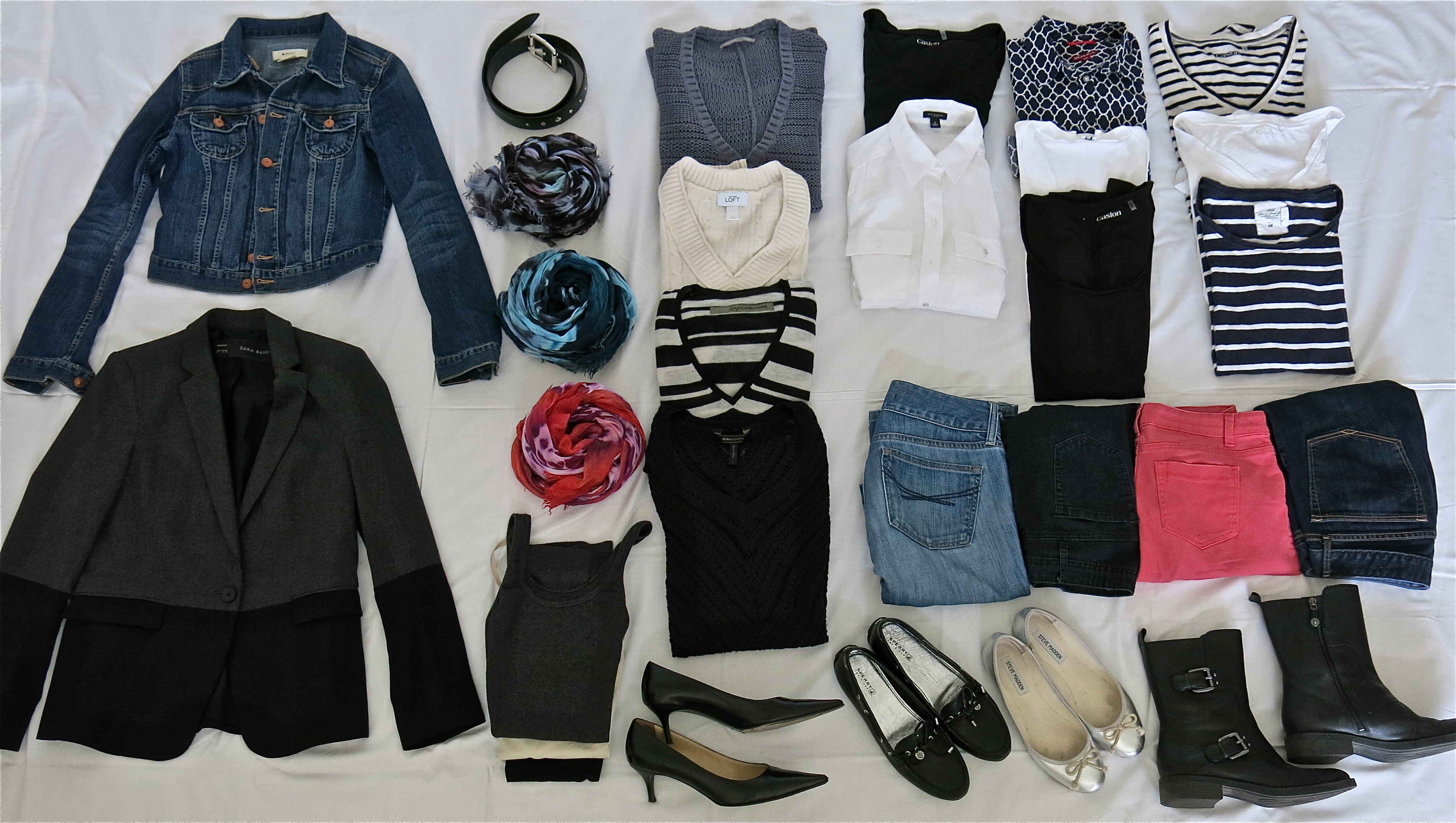 This is actually more than I would normally pack, but the weather forecast is 51-72 degrees, which is a pretty big range! My packing concept (doesn't everyone have a packing concept? LOL) is to bring very basic clothes that fit well and accessorize them to add interest. So what is all that stuff above?
2 jackets: a jean jacket and a blazer for a nicer occasion
3 scarves because I will wear one every day
1 belt
3 sweaters: a long cardigan, fitted striped V-neck and a cashmere if its cold
1 blouse
3 short-sleeve T-shirts
2 long-sleeve T-shirts
3 jeans that go from dark and skinny (for at night) to stonewash and bootleg (for the day)
The red rectangle in the middle is a packable Longchamp raincoat. It's supposed to rain, and it will be perfect to carry in my handbag for when it does.
4 shoes: rubber ballet flats are in there because of the forecast for rain. I'm not bringing any heels because I'll be walking around a lot, so comfort as well as cuteness is key.
I do have some tried-and-true packing tips that I swear by:
As you can see from the photo, every top goes with every bottom (except I wouldn't wear the denim jacket with the stonewash jeans), and every shoe goes with every outfit. I have at least 30 outfits here, so I will be prepared for every weather.
I always bring a small bottle of Wrinkle Away with me. It is an amazing product that loosens the fibers of clothes to get the wrinkles out. I spray it on my clothes when I arrive, and I don't look like I slept in them. Be careful on delicates though. I stick to using it on sweaters, pants and T-shirts.
I pack socks and tank-tops and undies at the bottom of the suitcase where the indents from the handles are to create a flat(ish) bottom.
Then, pack flat! Think about it – the more you fold an item, the more wrinkles it will have.
I've heard that you should pack your shoes at the bottom of a suitcase, but that never, ever worked for me. I always have some extra space on the sides of my suitcase, so I pack my shoes individually in bags and fit them in those spaces.
I'll layer a tank top under a T-shirt under the grey cardigan with my dark skinny jeans (with stretch!) and a scarf for the flight. I'm always cold on planes, but I can un-layer if I'm not.
I always wear pants with stretch on the flight. They are much more comfortable than other pants, and you won't show up at your destination with a baggy bottom and baggy knees.
I have a carry-on that expands. I leave it small for the trip over. Then I can buy a few things, expand it and usually I don't have to check luggage.
For overnight flights, I LOVE Mac's Dreamweaver eye mask (and I've tried every eye mask out there!). It is contoured, so it won't smear my eye makeup. It doesn't press on my eyes, so it is really comfortable, and it's very dark. Find it here: Mac's Dreamweaver Eye Mask
What are your favorite packing tips?
xoxo
Illysia
PS-If you want tips about how to travel on an overnight flight, check out this post